The Mr. Men Games by Waddingtons from 1980 is a set of colorful Mr. Men cards.
The cards are used to play "Happy Families", "Snap", and "Memory."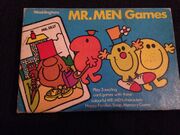 Content: 52 Cards
Characters on Cards
Mr. Tickle
Mr. Greedy
Mr. Happy
Mr. Sneeze
Mr. Bump
Mr. Messy
Mr. Topsy-Turvy
Mr. Silly
Mr. Uppity
Mr. Forgetful
Mr. Funny
Mr. Mean
Mr. Chatterbox
Mr. Strong
How to Play the Games
Happy Families
Shuffle the cards throughly and deal 7 cards to each player.
Photos
Ad blocker interference detected!
Wikia is a free-to-use site that makes money from advertising. We have a modified experience for viewers using ad blockers

Wikia is not accessible if you've made further modifications. Remove the custom ad blocker rule(s) and the page will load as expected.