Ad blocker interference detected!
Wikia is a free-to-use site that makes money from advertising. We have a modified experience for viewers using ad blockers

Wikia is not accessible if you've made further modifications. Remove the custom ad blocker rule(s) and the page will load as expected.
These heads first appeared in the episode, Books. They shout out Mr. Rude's name, after he makes his introduction. The heads are Little Miss Helpful (without her fanny pack), Mr. Grumpy, Mr. Bump, Mr. Tickle, Mr. Happy, Little Miss Scary and Mr. Small and there's a green background.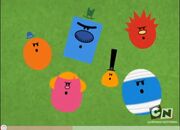 Appearances
Books (With Mr. Happy)
Canned Goods (Moving heads and they don't move the second time)
Yard Work (Moving heads and with a light blue background)
Heatwave (Same)
Inventions (Same, but with Mr. Happy)
Hotel (Same, but with a gray background, with Mr. Happy, with Mr. Happy's and Miss Sunshine's voice and without the intro)
Car Wash (Same, but without Mr. Happy)
Cars (Same, but with moving heads and a gray background)
Travel (Same, but with an orange background and Mr. Small is in a different location)
Jobs (In the music video of objects, but don't speak)