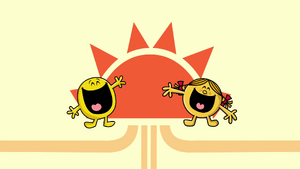 Good Morning Dillydale is a show hosted by Mr. Happy and Little Miss Sunshine in The Mr. Men Show. It appeared 12 times in The Mr. Men Show.
Episodes that it appears in
Series 1
Inventions (twice)
Collections
Ships
Physical
Full Moon (only with Mr. Bump and Miss Scary)
Boats
Snow
Cooking
Canned Goods
Fish
Circus (briefly)
Series 2
Robots
Bath and Bubbles
Trivia
In Series 2, the show only appeared in Robots. Likely because Miss Naughty's Robot Mr. Metal took over the show.

However, there is a similar show called "The Dillydale Morning News", which is similar to Good Morning Dillydale, but it features Miss Naughty and Miss Scary as the news anchors.
Ad blocker interference detected!
Wikia is a free-to-use site that makes money from advertising. We have a modified experience for viewers using ad blockers

Wikia is not accessible if you've made further modifications. Remove the custom ad blocker rule(s) and the page will load as expected.