Little Miss Busy
Talk

0
613pages on
this wiki
Little Miss Busy is the twenty-second book in the Little Miss series by Roger Hargreaves.
Little Miss Busy is always busy. When she's not cleaning the house, she's shopping, and when she's not shopping she's gardening, and when she's not gardening she's cooking. She never stops!  One day she gets sick, and Dr. Makeyouwell tells her to do nothing and rest, but that makes her unhappy. Other characters stop by to suggest cures, but none work. Finally, Mr. Nonsense suggests she take a vacation. Little Miss Busy likes the idea because she could do lots of planning and packing.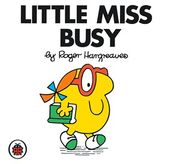 She could be related to Mr. Busy.
Counterparts
Edit
Rabbit (Winnie the Pooh, both are yellow and are always busy),
Ruffy the Dog (Timmy Time, both are active).
International publications & translations
Edit
This is a list of alternate titles for this book being published internationally.
Madame Boulot (French)
Η Κύριος Εργατική (Greek)
Voice Actresses Jill Shilling (1995-1997)
Catherine Disher (1997-1999)
List of characters
Edit
This is a list of Mr. Men, Little Miss and other special characters that appear in this book.
Other Apperences
Edit
These ARE NOT the other books she appears in, because she dosn't appear in any more. This is about the Mr. Men and little miss stories she appears in.
Mr. Bump Goes on a Trip
Mr. Mischief is caught at his own game.
Little Miss Busy Takes a Break
Little Miss Chatterbox Goes To Seatown
Mr. Noisy, the Music Man
External links
Edit
Mr. Men
Mr. Tickle Mr. Greedy Mr. Happy Mr. Nosey Mr. Sneeze Mr. Bump Mr. Snow Mr. Messy Mr. Topsy-Turvy Mr. Silly
Mr. Uppity Mr. Small Mr. Daydream Mr. Forgetful Mr. Jelly Mr. Noisy Mr. Lazy Mr. Funny Mr. Mean Mr. Chatterbox
Mr. Fussy Mr. Bounce Mr. Muddle Mr. Dizzy Mr. Impossible Mr. Strong Mr. Grumpy Mr. Clumsy Mr. Quiet Mr. Rush
Mr. Tall Mr. Worry Mr. Nonsense Mr. Wrong Mr. Skinny Mr. Mischief Mr. Clever Mr. Busy Mr. Slow Mr. Brave
Little Miss
Little Miss Bossy Little Miss Naughty Little Miss Neat Little Miss Sunshine Little Miss Tiny Little Miss Trouble Little Miss Helpful Little Miss Magic Little Miss Shy Little Miss Splendid
Little Miss Late Little Miss Scatterbrain Little Miss Greedy Little Miss Giggles Little Miss Twins Little Miss Chatterbox Little Miss Dotty Little Miss Lucky Little Miss Star Little Miss Fickle
Little Miss Contrary Little Miss Busy Little Miss Quick Little Miss Wise Little Miss Tidy Little Miss Brainy Little Miss Stubborn Little Miss Curious Little Miss Fun Little Miss Somersault
Special Mr. Men
Non-English Mr Men
Misc. Mr Men
Appeared in other Stories
Related Articles