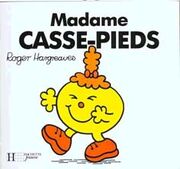 Little Miss Busy-Body/Madame Casse Pieds
is part of the
Little Miss
series of books, by
Roger Hargreaves
.
Story
Little Miss Busy-Body/Madame Casse Pieds is a Nuisance person who loves to annoy people and bore them stiff, while annoying Mr. Greedy's best mate, Mr. Jelly! when she is annoying people, The Wizard comes around for a talk.
International publications & translations
This is a list of alternate titles for this book being published internationally.
Madame Casse Pieds (French)
Η Κυρία Ενοχλητική (Greek)
About Her
Gender: Female
Colour: Yellow
Relatives: None
Job: Being Annoying, irritating and boring people stiff
List of characters
This is a list of Mr. Men, Little Miss and other special characters that appear in this book.
Title character other appearances
This is a list of other books that the title character has appeared in.
Although she doesn't appear in any other books, she does have her own learning card in the Mr. Men and Little Miss Learning Card Pack.
Counterparts:
Navi (The Legend of Zelda, Nintendo. Both annoy people)
Crazy Frog (Namesake series, both annoy people)
Dade (Harvey Beaks, both annoy people)
Chris Moyles (BBC Radio) (both can be annoying, Paul says that anyone who doesn't listen is clearly an idiot, which isn't true)
Scrappy (Scooby Doo, both are annoying and unintentional)
Barney (both are annoying and unintentional)
Elmo (Sesame Street, both are annoying enough to drive someone crazy)
Thing 1 and 2 (The Cat in the Hat (1958), both do the opposite of what people say, and are annoying to Conrad, Sally, and Mr. Jelly)
Gerald (Hey Arnold, both have similar hairstyles(except Gerald's hair doesn't have a bow))
Duck Hunt Dog (Duck Hunt, both are irritating)
Miss Hubbard (Postman Pat, both are busybodies)
Wilton Cashmore (Joshua Jones, both are busybodies)
Annoying Orange (Annoying Orange, both are annoying)
Deena (Sesame Street, both are incredibly annoying)
Miss Busybody (LazyTown, both are busybodies and have the same name)
Caillou (Caillou, both wear yellow and are irritating)
Shinnosuke Nohara (Crayon Shin-Chan, both annoy people)
Thread (Battle for Isle Sleep, both are annoying)
Snarf (Thundercats, both are irritating)
Gallery
See also
External links
| | | |
| --- | --- | --- |
| V · T · E | Roger Hargreaves | |
Ad blocker interference detected!
Wikia is a free-to-use site that makes money from advertising. We have a modified experience for viewers using ad blockers

Wikia is not accessible if you've made further modifications. Remove the custom ad blocker rule(s) and the page will load as expected.