"What a calamity!"
— Miss Calamity's catchphrase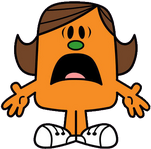 Little Miss Calamity was a new Little Miss who was created for the The Mr. Men Show but she only made appearances in the first season of the show. Miss Calamity was almost always in trouble. Normally, the trouble started with something normal, then something went terribly wrong. In the end, anything that started out right was completely in shambles. She would always end those troublesome moments with her catchphrase, "What a calamity!" In the US version she had a Brooklyn accent and in the UK version she had a Lancashire accent. She was like a bad luck charm. She spoke with a woman's voice and had many calamities. Miss Calamity hosted a television show of her own called "Driving with Miss Calamity." Miss Calamity had her hair in a flip design and she had a dark green nose and she also wore white sneakers just like Mr. Small does in his new show design and is also the same orange colour as Mr. Small is in his new show design. She also owned a bakery as shown in the episode, Restaurants. She had a nice white house which dangled dangerously off a cliff and it was barely supported by a few wooden beams. She was accident-prone like Mr. Bump and Mr. Clumsy and very unlucky. Her very last appearance on The Mr. Men Show was in the episode, Ships. After that, she was removed from The Mr. Men Show. In the episode, Trees, a realistic looking golden statue of her was shown for a short while when Mr. Noisy, Little Miss Helpful and Little Miss Chatterbox were trying to decorate Mr. Quiet's treehouse with some ornaments. In the UK and US versions, Season 1 only, she was voiced by Aline Mowat (UK) and Prudence Alcott (US), respectively. In the French version, she is called Madame Calamité.
Accents
UK: Lancashire
US: Brooklyn (New York)
About her
Gender: Female
Color: Orange
Lives: She lived in a very nice white house that dangled dangerously off a cliff with wooden beam supports to support it in Dillydale
Friends: Possibly Little Miss Daredevil, Little Miss Helpful, Mr Happy and a few other Mr. Men and Little Misses
Dislikes: Things going wrong, having accidents and calamities
Likes: Flowers and cute things
Shape: Rounded rectangle
In the Japanese version, she is called サイナンちゃん.
Rivals: Mr. Rude, Mr. Stubborn
Nationality: Lancashire (UK) Brooklyn (US)
See also
Episode Appearances
Season 1
Season 2
Trivia
Counterparts
Gallery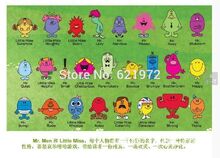 Ad blocker interference detected!
Wikia is a free-to-use site that makes money from advertising. We have a modified experience for viewers using ad blockers

Wikia is not accessible if you've made further modifications. Remove the custom ad blocker rule(s) and the page will load as expected.