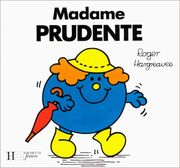 Little Miss Careful/Madame Prudente is part of the Little Miss series by Roger Hargreaves.
Story
Little Miss Careful/Madame Prudente always watches her step. She lives in a country where it is always sunny. One day, she has been told to give a speech about how being careful is the best thing in the world. But despite how careful she is she is more careless than her name states!
About Her
Gender: Female
Colour: Blue
Relatives: None
Job: Being Careful and always watching her step
Trivia
Little Miss Careful appeared in Little Miss Curious before her own book. The French people probably thought that they didn't want to leave a minor Mr. Men character out.
Counterparts
Rosy Bumps 'N' Bruises (Lalaloopsy, both are careful).
White (Pokemon Special, both are careful)
Toodee (Yo Gabba Gabba both are blue)
Gallery
See also
| | | |
| --- | --- | --- |
| V · T · E | Roger Hargreaves | |
Ad blocker interference detected!
Wikia is a free-to-use site that makes money from advertising. We have a modified experience for viewers using ad blockers

Wikia is not accessible if you've made further modifications. Remove the custom ad blocker rule(s) and the page will load as expected.