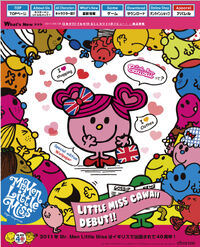 Little Miss Cawaii
is a pink Little Miss who debuted in Japan sometime around 2011. As of now, there is no book for this character.
Appearance
She has pink hair in heart-shaped pigtails with a British flag bow, and a matching purse.
Trivia
"Kawaii" (misspelled "cawaii" in Little Miss Cawaii's name) is the Japanese word for "cute".
It is unknown if she will have her own book in the future.
Ad blocker interference detected!
Wikia is a free-to-use site that makes money from advertising. We have a modified experience for viewers using ad blockers

Wikia is not accessible if you've made further modifications. Remove the custom ad blocker rule(s) and the page will load as expected.