Little Miss Contrary is the twenty-first book in the Little Miss series by Roger Hargreaves.
Story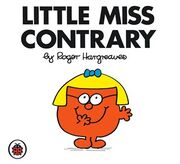 Little Miss Contrary always says the oppisite of what she really means. She lives in Muddleland. One day, Mr. Happy invites her to his birthday party. She haves a great time, but using contrary, she said it was dreadful. At the end of the book, it says for the readers, that Little Miss Contrary would say this is the "beginning" of the story.
International publications & translations
This is a list of alternate titles for this book being published internationally.
Madame Contraire (French)
Unsere Gerda Gegentil (First German Release)
Miss Gegenteil (German)
相反小姐 (Taiwan)
Η Κυρία Αντίθετη (Greek)
ひねくれちゃん (Japanese)
List of characters
This is a list of Mr. Men, Little Miss and other special characters that appear in this book.
Title character other appearances
This is a list of other books that the title character has appeared in.
Little Miss Fabulous (with pink hair, a yellow nose, and blue skin)
That's Enough, Little Miss Bossy (TV)
Mr. Jelly's Show of Bravery (TV)
A Weekend with Little Miss Contrary (TV)
A Rival for Little Miss Somersault (TV)(cameo)
Mr. Noisy, the music man (TV)(cameo)
Mr. Skinny's Incredible Bet (TV)
Voice Actresses
Jill Shilling (1995-1997)
Catherine Disher (1997-1999)
Trivia
She invited Little Miss Wise to her house once.
In Mr. Men and Little Miss, she lived in Nonsenseland, not Muddleland.
She lives in a cottage besides Little Miss Neat in Mr. Men & Little Miss.
Counterparts
See Counterparts Wiki.
Gallery
See also
External links
| | | |
| --- | --- | --- |
| V · T · E | Roger Hargreaves | |
Ad blocker interference detected!
Wikia is a free-to-use site that makes money from advertising. We have a modified experience for viewers using ad blockers

Wikia is not accessible if you've made further modifications. Remove the custom ad blocker rule(s) and the page will load as expected.