Little Miss Fickle is the twentieth book in the Little Miss series by Roger Hargreaves.
Story
Little Miss Fickle always has trouble making up her mind.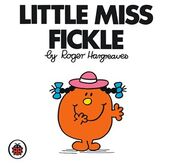 International publications & translations
This is a list of alternate titles for this book being published internationally.
Madame Indecise (French)
Unsere Ute Unentschieden (German)
Miss Unentschieden (Second German Release)
Juffertje Twijfel (Dutch)
Η κυρία Αναποφάσιστη (Greek)
Lille Frøken Flyvsk (Danish)
善變小姐 (Taiwan)
변덕양 (Korean)
きまぐれちゃん (Japanese)
List of characters
This is a list of Mr. Men, Little Miss and other special characters that appear in this book.
Restaurant Waiter
Sunnytown Milliner
Sunnytown Butcher
Little Miss Fickle also appears in some of the Mr. Men and Little Miss episodes
What a choice for Little Miss Fickle (TV)
Little Miss Helpful Goes To The Fair (TV)(cameo)
Mr. Greedy Goes To a Dinner Party (TV)
Trivia
One of her counterparts is Olive Oyl from Popeye because they are both fickle.
Her Dark and Light Elemental Ages from Warlords is Franka counterpart von Clowing because they are have black hairs, braids, wears hats, fickle and girlfriends.
Her Junglies counterpart is Geraldine Giraffe because they are both fickle.
The only time she didn't make up her mind was the episode "Mr. Greedy Goes to a Dinner Party"
Counterparts
Olive Oyl (Popeye the Sailor man), both are fickle and have black hair.
Rodney (Total Drama series), both are fickle.
Puff (Timbuctoo), both are indecisive.
Wembley Fraggle (Fraggle Rock), both are indecisive.
Geraldine Giraffe (The Junglies), both are fickle.
Lincoln Loud (The Loud House), both are orange and fickle.
Gallery
See also
External links
| | | |
| --- | --- | --- |
| V · T · E | Roger Hargreaves | |
Ad blocker interference detected!
Wikia is a free-to-use site that makes money from advertising. We have a modified experience for viewers using ad blockers

Wikia is not accessible if you've made further modifications. Remove the custom ad blocker rule(s) and the page will load as expected.