Little Miss Greedy
Talk

0
614pages on
this wiki
Little Miss Greedy is the thirteenth book in the Little Miss series by Roger Hargreaves.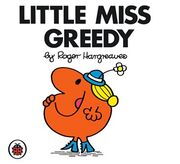 Little Miss Greedy has a really large breakfast she ate 66 sausages and 23 slices of toast with marmalade! Then she goes to Mr. Greedy's birthday, and they have a huge meal!
Voice Actresses
Edit
Pauline Collins (1983)
Jill Shilling (1995-1997)
Judy Marshak (1997-1999)
International publications & translations
Edit
This is a list of alternate titles for this book being published internationally.
Little Miss Plump (USA,UK

her original book cover

Added by

Paul-D

)
Madame Dodue (French)
Doña Rechoncha (Spanish)
胖嘟嘟小姐 (Taiwan)
Η Κύριος Φαγανούλα (Greek)
Rosi Rundlich (German)
List of characters
Edit
This is a list of Mr. Men, Little Miss and other special characters that appear in this book.
Mr. Greedy (also on cover) (says, "Greedy Girl!)
The Postman
Title character other appearances
Edit
This is a list of other books that the title character has appeared in.
Little Miss Magic (she appears in this book before her own)
The Joke Is On Little Miss Naughty(TV)
A Job For Little Miss Giggles(TV)
A Very Happy Day For Mr. Happy(TV)
Mr. Skinny's Incredible Bet(TV)
Little Miss Greedy: Belle of the Ball(TV)
Little Miss Greedy's Strange Illness(TV)
Mr. Dizzy Promises the Moon(TV)
What a Question, Little Miss Curious!(TV)
Mr. Small's Big Dream(TV)
A Surprise for Mr. Tall (TV)
No Food is No Fun For Mr. Greedy(TV)
A Rival for Little Miss Somersault(TV)
Little Miss Helpful Goes To The Fair(TV)
Little Miss Late Finally Catches Up (TV)
Little Miss Star, the Leading Witness(TV)(cameo)
Mr. Nonsense Rows To The Moon (TV)(mentioned)
Out of the 7 deadly sins, Miss Greedy represents Gluttony.
Counterparts
Edit
Marjorie Dawes (Little Britain, both eat lots of food and are overweight),
Bubbles DeVere (Little Britain, both are fat),
Sadie (Total Drama Series, both are fat),
Owen (Total Drama series, both are fat, have blonde hair and eat lots of food),
Owl (The Animals of Farthing Wood, both are fat),
Lady Kluck (Robin Hood 1973, both are fat),
Ursula (The Little Mermaid, Disney, both are fat),
Helga (Clayfighter Series, both are fat),
Homer Simpson (The Simpsons, both are fat)
Cloud Strife (Final Fantasy VII, both have blonde hair)
Letter M (Alphablocks, they're both greedy),
Ms. Pac Man (Both eat alot),
Chowder (Chowder, both are plump and love food),
Aunt Sponge (James and the Giant Peach, both are fat and love food),
Heather Trott (Eastenders, both are fat),
Cow (Cow & Chicken, both are fat),
The Queen (Muzzy in Gondoland, both are fat),
Millicent Bulstrode (Harry Potter, both are fat),
Lupe (Fanboy and Chum Chum, both are fat),
Lizzie Devine (Codename: Kids Next Door, both are fat),
Mrs. Tubby Bear (Noddy's Toyland Adventures, both are fat),
Tessie Bear (Noddy's Toyland Adventures, both are fat)
Greedy Smurf (The Smurfs, both have blue they eat alot of food and they're greedy).
Rarity (My Little Pony: Friendship is Magic, both are females that are greedy sometimes),
Toula (Fat Pizza, both are fat and eats alot)
Dee Dee (Oggy and The Cockroaches,both are fat and eating food)
External links
Edit
Mr. Men
Mr. Tickle Mr. Greedy Mr. Happy Mr. Nosey Mr. Sneeze Mr. Bump Mr. Snow Mr. Messy Mr. Topsy-Turvy Mr. Silly
Mr. Uppity Mr. Small Mr. Daydream Mr. Forgetful Mr. Jelly Mr. Noisy Mr. Lazy Mr. Funny Mr. Mean Mr. Chatterbox
Mr. Fussy Mr. Bounce Mr. Muddle Mr. Dizzy Mr. Impossible Mr. Strong Mr. Grumpy Mr. Clumsy Mr. Quiet Mr. Rush
Mr. Tall Mr. Worry Mr. Nonsense Mr. Wrong Mr. Skinny Mr. Mischief Mr. Clever Mr. Busy Mr. Slow Mr. Brave
Little Miss
Little Miss Bossy Little Miss Naughty Little Miss Neat Little Miss Sunshine Little Miss Tiny Little Miss Trouble Little Miss Helpful Little Miss Magic Little Miss Shy Little Miss Splendid
Little Miss Late Little Miss Scatterbrain Little Miss Greedy Little Miss Giggles Little Miss Twins Little Miss Chatterbox Little Miss Dotty Little Miss Lucky Little Miss Star Little Miss Fickle
Little Miss Contrary Little Miss Busy Little Miss Quick Little Miss Wise Little Miss Tidy Little Miss Brainy Little Miss Stubborn Little Miss Curious Little Miss Fun Little Miss Somersault
Special Mr. Men
Non-English Mr Men
Misc. Mr Men
Appeared in other Stories
Related Articles