Little Miss Scatterbrain is the twelfth book in the Little Miss series by Roger Hargreaves.
Story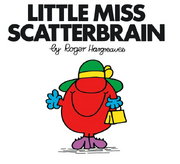 Little Miss Scatterbrain is the least smartest person in the world, even less than Mr. Dizzy. She can never remember the names of the other Mr. Men and Little Misses, and calls them by the wrong names. Little Miss Scatterbrain also goes to the bank and tries to get sausages instead of money, and later calls the butcher "Mr. Beef" instead of "Mr. Pork."
Voice Actors
Pauline Collins (1983)
Jill Shilling (1991-1997)
Alyson Court (1997-1999)
The Mr. Men Show
Main Article: Mr. Scatterbrain She may be related to Mr. Scatterbrain.
International publications & translations
This is a list of alternate titles for this book being published internationally.
Madame Tete en l'air (French)
Unsere Wendi Wirrwarr (First German Release)
Miss Wirrwarr (Second German release)
Dona Despistada (Spanish)
Senhora Cabeça no Ar (Portuguese)
Η Κυρία Ξεμυαλισμένη (Greek)
Lille Frøken Vimsekopp (Norwegian)
迷糊小姐 (Taiwan)
おっちょこちょいこちゃん (Japanese)
List of characters
This is a list of Mr. Men, Little Miss and other special characters that appear in this book.
Postman (on TV)
Bank Manager
Mr. Forgetful (cover, saying "She's a little forgetful!" )
Mr. Silly (didn't say anything)
Trivia
In Little Miss Scatterbrain Puts Everything In Turmoil, it is revealed that her birthday is sometime in July. (though she accidentally celebrates in April every year)
Counterparts
Dory (Finding Nemo, Disney, both are very forgetful, not very bright, and have yellow and blue),
Eugene "Skull" Skullovich (Mighty Morphin Power Rangers, both lack intelligence),
Lindsay (Total Drama series, both lack intelligence),
London Tipton (Suite Life series, both lack intelligence),
Numbuh 3 (Codename: Kids Next Door, both lack intelligence and have green),
Pinky (Pinky and the Brain, both lack intelligence),
Trixie (Toy Story 3, both are girlfriends to Mr. Dizzy and Rex),
Florrie Fosdyke (Raggy Dolls, both are scatterbrained),
Pantaloon (Nutcracker Prince, both are scatterbrains, though when Pantaloon's damaged),
Zippy (T.U.F.F. Puppy, both are scatterbrains),
Barbara Pewterschmidt (Family Guy, both are kind and wear red),
Hana Willembs (Dark and Light Elemental Ages from Warlords, both lack intelligence),
Mabel Pines (Gravity Falls, both are scatterbrains),
Big Nose (Disney's Tangled, both have big noses),
Cluck (Timbuctoo, both are absent-minded)
Bullwinkle J. Moose (Rocky and Bullwinkle; both are dim-witted, lack intellegence, dumb, forgetful, have big noses and wear gloves)
Partick Star (Spongebob SquarePants, both lack intellegence and have something green)
Cosmo (The Fairly OddParents, both lack intelligence and have something green on their heads)
Melody (Josie and the Pussycats, both lack intelligence)
Title character other appearances
This is a list of other books that the title character has appeared in.
Little Miss Splendid and the princess (cameo)
A Very Happy Day For Mr. Happy (TV)(cameo)
Mr. Mischief is caught at his own game (TV)
An Invitation For Mr. Messy (TV)
Mr. Silly's Silly Secret (TV)(cameo)
Mr. Muddle Goes Skating (TV)(cameo)
Mr. Skinny's Incredible Bet (TV)(cameo)
Mr. Nonsense's Strange Illness (TV)(cameo)
Gallery
See also
External links
| | | |
| --- | --- | --- |
| V · T · E | Roger Hargreaves | |
Ad blocker interference detected!
Wikia is a free-to-use site that makes money from advertising. We have a modified experience for viewers using ad blockers

Wikia is not accessible if you've made further modifications. Remove the custom ad blocker rule(s) and the page will load as expected.