Little Miss Stubborn is the twenty-seventh book in the Little Miss series by Roger Hargreaves.
Story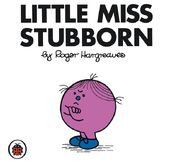 Little Miss Stubborn, after a long journey with many stops in the wrong countries, ended up at Mr. Strong's house and ate a gigantic omelet without permission. Little Miss Stubborn is unstoppable. She does have fall outs with her brother, Mr. Stubborn
Voice Actresses
Jill Shilling (1995-1997)
Catherine Disher (1997-1999)
Counterparts
See Counterparts Wiki.
Main Article: Mr. Stubborn
International publications & translations
This is a list of alternate titles for this book being published internationally.
Madame Têtue (French)
Miss Sturkopf (German)
Menina Teimosa (Portuguese)
Mevrouwtje Koppig (Dutch)
Senhora Teimosa (Portuguese)
Η Κυρία Πεισματάρα (Greek)
Lille Frøken Stædig (Danish)
固執小姐 (Taiwan)
고집세양 (Korean)
がんこちゃん (Japanese)
List of characters
This is a list of Mr. Men, Little Miss and other special characters that appear in this book.
Title character other appearances
This is a list of other books that the title character has appeared in.
Little Miss Stubborn goes to the bitter end (TV)
Little Miss Stubborn and the unicorn
Gallery
See also
External links
| | | |
| --- | --- | --- |
| V · T · E | Roger Hargreaves | |
Ad blocker interference detected!
Wikia is a free-to-use site that makes money from advertising. We have a modified experience for viewers using ad blockers

Wikia is not accessible if you've made further modifications. Remove the custom ad blocker rule(s) and the page will load as expected.