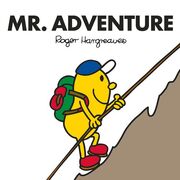 Mr. Adventure is the forty-ninth book in the Mr. Men series by Roger Hargreaves and the sixth one created by Adam Hargreaves. It was released on 4 October 2016.
Story
Mr. Adventure loves to see the world, but one day he decides to get a job to earn enough money for a holiday. He finds his new job. He can now explore the world.
International publications & translations
This is a list of alternate titles for this book being published internationally.
Monsieur Aventure (French)
Ο κύριος Περιπέτεια (Greek)
Trivia
He is the only Mr. Men character to feature a geographical landmark on his front cover. In this case, it is a mountain.
His prototype design depicted him as a boy scout.
He is the new character in 2016.
He wears backpack.
He job is firefighter.
He is one of many characters that doesn't care if Mr. Bump gets hurt.
List of characters
Counterparts
Link (The Legend of Zelda franchise, both are adventurous and have yellow)
Moana (Namesake series, both are adventurous)
Pikachu (Pokémon, both are yellow and adventurous)
Jake (Adventure Time, both are yellow and adventurous)
Rupert Bear (Rupert Bear series, both are adventurous and have yellow)
See also
Gallery
External links
| | | |
| --- | --- | --- |
| V · T · E | Roger Hargreaves | |
Ad blocker interference detected!
Wikia is a free-to-use site that makes money from advertising. We have a modified experience for viewers using ad blockers

Wikia is not accessible if you've made further modifications. Remove the custom ad blocker rule(s) and the page will load as expected.