Mr. Cheeky was very cheeky. In 2001, the Daily Mirror hosted a "Make your own Mr Men character. 8 year old Gemma Almond won, so one of the shops sold it. You can now get it at shops like eBay or Amazon. Mr Cheeky ate Mr. Greedy's breakfast, broke Mr. Small's house, ripped Mr. Muddle's hat, poked Mr. Nosey's nose and painted over Little Miss Neat's glasses. Then, one day, Little Miss Bossy came to Mr. Cheeky's house and made him follow her orders. Now, Mr. Cheeky is very polite.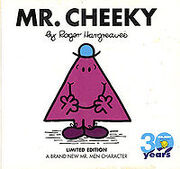 International Translations
This is a list of titles being published internationally.
Ad blocker interference detected!
Wikia is a free-to-use site that makes money from advertising. We have a modified experience for viewers using ad blockers

Wikia is not accessible if you've made further modifications. Remove the custom ad blocker rule(s) and the page will load as expected.