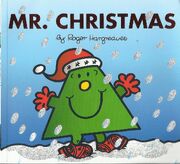 Mr. Christmas is part of the Mr. Men series of books, by Roger Hargreaves.
Story
Mr. Christmas just loves Christmas. Christmas is his favorite holiday and he thinks that Santa Claus (his uncle) is just amazing! When asked to deliver some presents, he takes his flying teapot and tries to cram all of his presents into that one evening (the 24th of December)!
International publications & translations
This is a list of alternate titles for this book being published internationally.
Monsieur Noël (French)
Mister Weihnachten (German)
Ο Κύριος Χριστουγεννούλης (Greek)
Hr. Jul (Danish)
List of characters
This is a list of Mr. Men, Little Miss and other special characters that appear in this book.
Mr. Silly (he gets an electric, automatic, instant, digital, computerised Thingumajig)
Mr. Nonsense (he is mentioned in the big book but he is not seen)
Mr. Fussy (he gets 365 yellow dusters, one for every day of the year)
Mr. Small (he gets a jelly bean for a feast)
Mr. Greedy (he gets a cookbook to give him ideas of what food he can create)
Mr. Tall (he gets a pair of very long multicoloured stripy socks for his long legs)
Mr. Sneeze (he gets a handkerchief for his sneezes)
Mr. Muddle (he gets some cornflakes)
Mr. Mean (he gets a purse that is just the right size for putting no money in)
Mr. Chatterbox (he gets a dictionary)
Mr. Topsy-Turvy (he gets a picture)
Mr. Uppity (he gets a gold-plated backscracher)
Mr. Funny (he gets a book of knock-knock jokes)
Father Christmas
Wizard Winterbottom
Percy (Penguin Postman)
Pictures Only
Title character other appearances
This is a list of other books that the title character has appeared in.
Counterparts
Henry (Thomas & Friends, both are green and love snow)
Bob Cratchit (A Christmas Carol, both love Christmas)
Dr. Teeth (The Muppet Show, both are green and wear hats)
Buddy (Elf, both love Christmas)
Trivia
His theme song is called It's Christmas!
Gallery
See also
External links
| | | |
| --- | --- | --- |
| V · T · E | Roger Hargreaves | |
Ad blocker interference detected!
Wikia is a free-to-use site that makes money from advertising. We have a modified experience for viewers using ad blockers

Wikia is not accessible if you've made further modifications. Remove the custom ad blocker rule(s) and the page will load as expected.