Mr. Good

Book No.

46

Release Date

September 2003

Preceded by

Followed by
Mr. Good is the forty-sixth book in the Mr. Men series by Roger Hargreaves and the third one created by Adam Hargreaves.
Story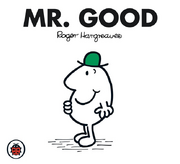 Mr. Good is good, but he lives in a town called Badland, where everyone is bad-mannered. When he opens a door for someone, he gets kicked in the shin, when he offers to carry shopping, he is accused of stealing. One day, Mr. Good decides to take a long walk and ends up in Goodland. He lives there now, but never steps in puddles because he thinks they will be deep like in Badland.
He could be related to Little Miss Bad since he lives in a place with bad people (except their behavior is different).
International publications & translations
This is a list of alternate titles for this book being published internationally.
Monsieur Gentil (French)
Mister Gut (German)
Sehnor Bonzinho (Portuguese)
Ο κύριος Καλοσυνάτος (Greek)
いいこくん (Japanese)
List of characters
This is a list of Mr. Men, Little Miss and other special characters that appear in this book.
Man who accuses Mr. Good for hat
Woman with shopping
Good man
Good lady
Badland dog
Badland tree
Counterparts
See Counterparts Wiki.
Gallery
See also
External links
| | | |
| --- | --- | --- |
| V · T · E | Roger Hargreaves | |