Mr. Impossible is the twenty-fifth book in the Mr. Men series by Roger Hargreaves.
Story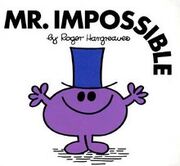 Nothing is impossible to Mr. Impossible. He can do anything. He has magic powers even uses his powers to motivate people.
One day he goes to school with a boy named William. He proves he can do anything in some amazing ways!
International publications & translations
Mr. Impossible appears under the titles
Monsieur Incroyable (French)
Don Imposible (Spanish)
Unser Herr Unmöglich (German)
불가능없어씨 (Korean)
萬事通先生 (Taiwan)
Ο Κύριος Απίθανος (Greek)
Meneer Onmogelijk (Dutch)
Herra Ómögulegur (Icelandic)
なんでもできちゃうくん (Japanese)
List of characters
This is a list of Mr. Men, Little Miss and other special characters that appear in this book.
Title character other appearances
This is a list of other books that the title character has appeared in.
Trivia
In the 1991 Christmas Special, his voice sound similar to Western actor John Wayne.
He is one of the few characters who care if Mr. Bump gets hurt.
He only dislikes Mr. Rude because of his bad manners, and Mr. Uppity because he upset Little Miss Shy.
His voice sounded like David Blaine, an American magician.
He used a Mr. Tall Song called So Very Tall in Impossible Forest in Tallerland.
Counterparts
See Counterparts Wiki.
Gallery
See also
External links
| | | |
| --- | --- | --- |
| V · T · E | Roger Hargreaves | |