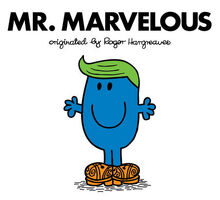 Mr. Marvelous is the forty-eighth book in the Mr. Men series by Roger Hargreaves and the fifth one created by Adam Hargreaves. It has been released in 26 July 2016.
Story
Mr. Marvelous can do marvelous things, such as outrunning Mr. Rush in his car, change colour, shapeshift and many other things! But when Little Miss Naughty proves to be a real challenge, he tries to be more naughty than her! It's a very hard task, so Mr. Marvelous calls for Mr. Mischief's help.
List of characters
Counterparts
Krusty the Clown (The Simpsons, both have green hair)
Kevin (Supernoobs, both are marvelous)
Kirby (Nintendo, both can copy abilities)
Hank (Finding Dory, both can change colour)
Tobias (The Amazing world of Gumball, both can change colour)
Kecleon (Pokémon, both have green and can change colour)
Mew (Pokémon, both can shapeshift, can copy ability and both Mr. Marvelous and Shiny Mew are blue)
Ditto (Pokémon, both can shapeshift and copy ability, and Mister Marvelous and Shiny Ditto are blue)
Captain Planet (Namesake series, both are blue with green hair and can shapeshift)
Father (Codename Kids Next Door, both have a similar hairstyle and can shapeshift)
Robotboy (Namesake series, both are blue and can change shape)
Widget (Namesake series, both can shapeshift)
Ben 10 (Namesake series, both can shapeshift and have green (Ben wears green at times as a teen and tween, while Mr. Marvelous has green hair)
Jake (Adventure time, both can change shape)
Pascal (Tangled, Both can change colour)
International publications & translations
This is a list of alternate titles for this book being published internationally.
Monsieur Formidable (French)
See also
External links
| | | |
| --- | --- | --- |
| V · T · E | Roger Hargreaves | |
Ad blocker interference detected!
Wikia is a free-to-use site that makes money from advertising. We have a modified experience for viewers using ad blockers

Wikia is not accessible if you've made further modifications. Remove the custom ad blocker rule(s) and the page will load as expected.