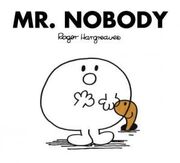 Mr. Nobody is the forty-seventh book in the Mr. Men series by Roger Hargreaves and the fourth one created by Adam Hargreaves. It was originally a special character in 1985. In some cases, it is mistakenly called Mr. Invisible.
About him
Lives: Happyland
Family: Little Miss Nobody (sister)
Likes: His colour
Dislikes: Being invisible
Friends: Mr. Happy and the wizard
Story
Mr. Happy finds somebody who is nobody. Mr. Nobody is literally not much of a person. Mr. Happy tried to make Mr. Nobody in to somebody by bringing him to the Wizard. The wizard makes him yellow and he is now called Mr Somebody.  
List of characters
This is a list of Mr. Men, Little Miss and other special characters that appear in this book.
International publications & translations
This is a list of alternate titles for this book being published internationally.
Monsieur Personne (French)
Mister Niemand (German)
Senhor Ninguém (Portuguese)
Ο κύριος Κανένας (Greek)
だれだれくん (Japanese)
Hr. Ingenting (Danish)
Trivia
In 2010, Mr. Nobody is made by Adam Hargreaves and is made into a normal Mr. Men book.
Counterparts
His muppet show counterpart is Thog because they're both sad
His mlp fim counterpart is rarity because they're both white
his sesame street counterpart is Elmo because they're both small
his sonic the hedgehog counterpart is tails the fox because they're both shy
his lion king counterpart is nuka because they're both different
his other lion king counterpart is pumbaa because they're big and small
his ice age counterpart is manny because they're big and small
His donkey kong counterpart is donkey kong because they're white and brown
his big and small counterpart is small because they're both short
his Henry hugglemonster counterpart is roddy cloudmonster they've both got different emotions
his handy manny counterpart is rusty because they're both scared
His jungle book counterpart is baloo because they're both friendly
his seven year Itch counterpart is Tom Ewell because they're both handsome
his other jungle book counterpart is mowgli because they're both small
his other muppet show counterpart is robin the frog because they're both small
His Nintendo counterpart is Mr. Game & Watch because they both have an outline
His The Amazing world Of Gumball counterpart is Rob because both nobodies.
His Sofia the First counterpart is Clover because they are both small.
Gallery
See also
| | | |
| --- | --- | --- |
| V · T · E | Roger Hargreaves | |
Ad blocker interference detected!
Wikia is a free-to-use site that makes money from advertising. We have a modified experience for viewers using ad blockers

Wikia is not accessible if you've made further modifications. Remove the custom ad blocker rule(s) and the page will load as expected.