Mr. Nobody
Talk

0
613pages on
this wiki
Mr. Nobody is the forty-seventh book in the Mr. Men series and the fourth one created by Adam Hargreaves. It was originally a special character in 1985. In some cases, it is mistakenly called Mr. Invisible.
About himEdit
Lives: Happyland
Family: Little Miss Nobody (sister)
Likes: His Color
Dislikes: Being Invisible
Friends: Mr. Happy and the wizard
Mr. Happy finds somebody who is nobody. Mr. Nobody is literally not much of a person. Mr. Happy tried to make Mr. Nobody in to somebody by bringing him to the Wizard. The wizard makes him yellow and he is now called Mr Somebody.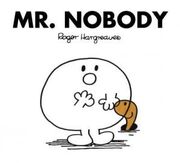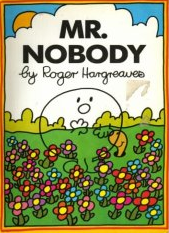 List of characters
Edit
This is a list of Mr. Men, Little Miss and other special characters that appear in this book.
International publications & translations
Edit
This is a list of alternate titles for this book being published internationally.
Monsieur Personne (French)
Mr. Men
Mr. Tickle Mr. Greedy Mr. Happy Mr. Nosey Mr. Sneeze Mr. Bump Mr. Snow Mr. Messy Mr. Topsy-Turvy Mr. Silly
Mr. Uppity Mr. Small Mr. Daydream Mr. Forgetful Mr. Jelly Mr. Noisy Mr. Lazy Mr. Funny Mr. Mean Mr. Chatterbox
Mr. Fussy Mr. Bounce Mr. Muddle Mr. Dizzy Mr. Impossible Mr. Strong Mr. Grumpy Mr. Clumsy Mr. Quiet Mr. Rush
Mr. Tall Mr. Worry Mr. Nonsense Mr. Wrong Mr. Skinny Mr. Mischief Mr. Clever Mr. Busy Mr. Slow Mr. Brave
Mr. Grumble Mr. Perfect Mr. Cheerful Mr. Cool Mr. Rude Mr. Good Mr. Nobody
Little Miss
Little Miss Bossy Little Miss Naughty Little Miss Neat Little Miss Sunshine Little Miss Tiny Little Miss Trouble Little Miss Helpful Little Miss Magic Little Miss Shy Little Miss Splendid
Little Miss Late Little Miss Scatterbrain Little Miss Greedy Little Miss Giggles Little Miss Twins Little Miss Chatterbox Little Miss Dotty Little Miss Lucky Little Miss Star Little Miss Fickle
Little Miss Contrary Little Miss Busy Little Miss Quick Little Miss Wise Little Miss Tidy Little Miss Brainy Little Miss Stubborn Little Miss Curious Little Miss Fun Little Miss Somersault
Special Mr. Men
Non-English Mr Men
Misc. Mr Men
Appeared in other Stories
Related Articles
In 2010, Mr. Nobody is made by Adam Hargreaves and is made into a normal Mr. Men book.