Mr. Nonsense is the thirty-third book in the Mr. Men series by Roger Hargreaves.
Mr. Nonsense
Color: Yellow
shape: Round
Friends: unknown
Rivals: unknown
Gender : Male
Love:
Family: Mr. Impossible(Adopted brother) Mr. Silly, Mr. Funny, and Little Miss Giggles.
Release date: 1978
Job: Talking Nonsense and being silly
Voice actors: David Shaw Parker (1992), Gordon Peters (1995-1997), Len Carlson (1997-1999)
Story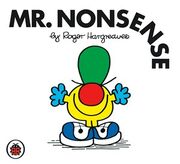 Mr. Nonsense lives in Nonsenseland, in a house on top of a tree. When asked why he sleeps in a rowing boat, the answer is "I tried sleeping in a motorboat and it was somewhat uncomfortable." When asked why he eats porridge on toast, the answer is, "I tried porridge sandwiches and I didn't like them." Mr. Nonsense is best friends with Mr. Silly, and when it snows yellow snow, they go for a toboggan in Mr. Nonsense's rowing boat bed. They build square snowballs somehow.
International publications & translations
Mr. Nonsense appears under the title
Monsieur Bizarre (French)
Unser Herr Unsinn (German)
Meneertje Onzin (Dutch)
荒唐先生 (Taiwan)
터무니없어씨 (Korean)
Ο Κύριος Κουταμάρας (Greek)
Don Disparates (Spanish)
ナンセンスくん (Japanese)
Counterparts
Big Nose (Disney's Tangled, both have big noses),
Cheshire Cat (Alice in Wonderland, both speak nonsense),
Ned Flanders (The Simpsons, both speak nonsense and are yellow),
Yoshimitsu (Tekken and Soul Calibur, both have a nonsensical way of speaking),
Wacky Hatter (Lalaloopsy, both are alike, speak nonsense and are friends with Mr. Silly and Alice in Lalaloopsyland).
Obfusco (Odd squad, both speak nonsense)
Lola Pop (ARMS, both are love nonsense things)
List of characters
This is a list of Mr. Men, Little Miss and other special characters that appear in this book.
Title character other appearances
This is a list of other books that the title character has appeared in.
Mr. Nonsense Rows To the Moon (TV)
Mr. Nonsense's Strange Illness (TV)
What a Question, Little Miss Curious (TV)
Mr. Clumsy, Head Butler (TV)(cameo)
Mr. Chatterbox and the Parrot (TV)(cameo)
Little Miss Helpful Goes To The Fair (TV)(cameo)
Mr. Greedy Goes To a Dinner Party (TV)
The Christmas Letter
Gallery
See also
External links
| | | |
| --- | --- | --- |
| V · T · E | Roger Hargreaves | |
Ad blocker interference detected!
Wikia is a free-to-use site that makes money from advertising. We have a modified experience for viewers using ad blockers

Wikia is not accessible if you've made further modifications. Remove the custom ad blocker rule(s) and the page will load as expected.