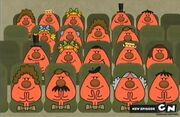 Mr. Rude's family watched Mr. Rude, Miss Sunshine, Mr. Messy, Mr. Strong, Mr. Bounce, Mr. Nervous, and Mr. Bump sneeze and hiccup in the sneeze and hiccup chorus and they loved it. They all have the same body shape, colour, face and shoes as Mr. Rude. Two even have his old tophat!
They appeared in Sneezes and Hiccups.
Ad blocker interference detected!
Wikia is a free-to-use site that makes money from advertising. We have a modified experience for viewers using ad blockers

Wikia is not accessible if you've made further modifications. Remove the custom ad blocker rule(s) and the page will load as expected.