Mr. Rush is the thirtieth book in the Mr. Men series by Roger Hargreaves.
Mr. Rush
Color: Purple
shape: Sideways Triangle
Gender : Male
Relatives : Mr. Fussy
Love:Little Miss Quick
Friends: Mr. Daydream, Mr. Tall.
Rivals: Mr. Clumsy
Release date: 1978
Job: being fast, quick and always in a hurry
Voice Actors: Gordon Peters (1995-1997), Neil Crone (1997-1999)
Story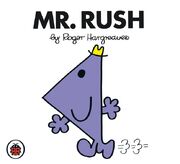 Mr. Rush is always in a rush. He never does anything properly. He is in such a rush he has a terrible breakfast (toast not toasted, water cold), only brushes one tooth, and runs out of the house to go nowhere. He sees an ad for a vacation in a magazine but can't go away because he has no money, so he wants a job to make money. Being a bus driver isn't good, because he doesn't stop at any of the stops, being a waiter isn't good because he'd whisk away the food as soon as he brought it. The job he finds is as a postman delivering express letters, the best job for the fastest thing on two feet. He saves enough money and goes on vacation.
International publications & translations
This is a list of alternate titles for this book being published internationally.
Monsieur Pressé (French)
Don Prisas (Spanish)
Ο Κύριος Βιαστικός (Greek)
匆忙先生 (Taiwan)
せかせかくん (Japanese)
서둘러씨 (Korean)
Unser Herr Eilig (German)
Mister Fix (Second German Release)
Hr. Hu-Hej (Danish)
Meneertje Vliegensvlug (Dutch)
Trivia
According to Miss Chatterbox in Hello, Pizza Express?, Mr. Rush is distant cousin to Mr. Fussy. This also means he's related to Mr. Clumsy as well.
He is never seen with a front view. Because of this, there would be times the animators would often "flip" him. Some kid meal toys by Arby's and other merchandise do depict him with a front view.
In one part of Little Miss Busy-Body, he has a blue hand.
Counterparts
See Counterparts Wiki.
List of characters
This is a list of Mr. Men, Little Miss and other special characters that appear in this book.
Pictures Only
Title character other appearances
This is a list of other books and episodes of Mr. Men and Little Miss that the title character has appeared in.
Little Miss Busy-Body (with a blue hand)
Mr. Bump Goes on a trip (TV)
Mr. Chatterbox Loses His Voice (TV) (cameo)
An Invitation for Mr. Messy(TV)
Hurry, Mr. Rush! Autumn is Coming(TV)
Mr. Lazy Can't Sleep Anymore(TV)
Mr. Funny Puts on a Show (TV)(cameo)
Happy Christmas, Mr. Worry(TV)(cameo)
Mr. Jelly's Show of Bravery(TV)
That's Gratitude, Mr. Uppity!(TV)
What a mess, Little Miss Helpful (TV)
A Rival for Little Miss Somersault (TV) (cameo)
An Unforgettable Sunday for Little Miss Tiny(TV)(cameo)
Mr. Slow Takes the lead (TV)
Thank Goodness for Mr. Slow (TV)
Little Miss Late Beats Them All(TV)
Mr. Noisy, the Music Man(TV)(cameo)
Little Miss Tidy and the winning ticket(TV)
Hello, Pizza Express (Mr. Busy) (TV)(Mentioned only)
Gallery
See also
External links
| | | |
| --- | --- | --- |
| V · T · E | Roger Hargreaves | |
Ad blocker interference detected!
Wikia is a free-to-use site that makes money from advertising. We have a modified experience for viewers using ad blockers

Wikia is not accessible if you've made further modifications. Remove the custom ad blocker rule(s) and the page will load as expected.