Mr. Scatterbrain
Talk

0
614pages on
this wiki
Mr. Scatterbrain is a new Mr. Men created for The Mr. Men Show. A literally pear-shaped magenta Mr. Men character with a blue bowler hat, a pink nose, a unabrow, and a wide collection of random items. Unlike the other Mr. Men and Little Misses, his tongue is hot pink. He also has a lot of animal friends, ranging from penguins to iguanas. His catchphrases: "Why didn't you say so?" (evident that he has short term memory loss) and "Where's my head?"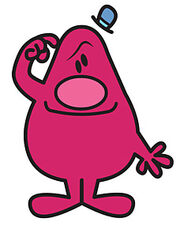 About Him.
Lives: Dillydale
Love: Doing random things, banana's, friends, Dillydale etc.
Family: Little Miss Scatterbrain (sister)
Friends: Mr. Tickle, Mr. Bounce, Mr. Nosey, and Mr. Small
Rivals: Mr. Rude
Job: Getting confused and causing chaos
Mr. Grumpy has a large conflict with him, but he doesn't seem to understand it.
Mr. Scatterbrain has many animals ranging from penguins, monkeys, kangaroos, etc.
In one episode, Post Office, Mr. Scatterbrain claims to be the mayor of Dillydale.
Mr. Scatterbrain is the sibling of Little Miss Scatterbrain.
Mr. Scatterbrain wore a green hat in Suprises.
He can sometimes be annoying to Mr Grumpy
He and Little Miss Whoops like to tease Mr. Grumpy
The only time he had his face off is Bugs, and he had his nose off in Reptiles and Hobbies.
He might be silly and love Mr. Grumpy
Little Miss Calamity may have a crush on him, though he does not know it.
His feet were shown as shoes in Goo.
Mr. Scatterbrain is one mr. men who is seen with Mr. Fussy (Lake, Beach, Bugs, Getting Around).
The Only times he has been angry. (Jobs, Birthday, type up some more)
Mr. Scatterbrain is one of the Mr. Men who is seen with Mr. Tickle (Farm, Arts and Crafts, Eyeglasses, Dining Out, Skyscrapers, Travel).
Every time he is with Mr. Tickle they do the tickle it out song.
He squeezed Mr. Grumpy's nose with his sock puppet in Gardens.
He doesn't care much if Mr. Bump gets hurt.
He doesn't care that Mr. Rude is acting rude and has bad manners, but he did seem to care that Mr. Rude farted in Washing & Drying
He is also friends with Mr. Nosy and Mr. Small.
In Night,he said he left a green belt in a place called Onionville.He may have once lived there.
In Sneezing and Hiccups, everytime he sneezes, his nose infates.
He arrested a fire hydrant instead of giving Mr.Rude a ticket in Jobs.
He is a really cute, funny character but can cause trouble
Ususlly he doesnt mean to harm someone, but his brain can get distracted.
He doesnt hate any characters and he is selfless.
He owns a resturant (Suprises,also worked at one in Dining Out and Resturants)
He worked at the train station in Trains,and in Getting Around,he operated a train made up of elephants.
He was in the Dillydale Relay Race in Physical (but his team didn't win)
List of near death expiriences:
Hats: Gets crushed by a sponge hat in the last bumper.
Goo and Movies: Probably swallowed by Miss Scary's goo.
Counterpart(s):
Edit
Lindsay (Total Drama series, both lack intelligence),
Scatterbrain Jane (Archer, both are scatterbrains),
Grounder (Sonic the Hedgehog, both lack intelligence),
Mad Hatter (Disney's Alice in Wonderland, both have the similar voices and goof around),
Pheobe (El Chavo, both have pink and magenta on them and are dumb sometimes)
Eugene "Skull" Skullovich (Mighty Morphin Power Rangers, both lack intelligence),
Dopey (Snow White And The Seven Dwarves, both are dumb and dopey),
Pantaloon (Nutcracker Prince, both are scatterbrains, though when Pantaloon's damaged),
Anne (Little Britain, both go "Eh Eh Eh!" and the goof around),
Squatt/Bookback (Mighty Morphin Power Rangers/Kyouryuu Sentai Zyuranger, both lack intelligence),
Bulk (Superted, both are incredibly dumb),
Clyde/Sue (Pac-Man, both lacked intelligence),
Meowth (Pokemon, both have a New York accent),
Beavis and Butthead (Beavis and Butthead, all three lack intelligence, and are dumb and forgetful (Though it's important for them to be forgetful)),
Ed, (Ed, Edd n Eddy, both are not very intellegent, love animals, and laugh alot),
Ralph Wiggum (The Simpsons, both lack intelligence),
Yakkity (Yakkity Yak, both lack intelligence)
Beefy Bert (Horrid Henry, both have a catchphrase and very little intelligence),
Patrick Star (SpongeBob SquarePants, both are pink, dumb and lack intelligence),
Klunk (Dastardly and Muttley, both lack intelligence),
Buzz Lightyear (Toy Story 3 (2010) Demo Mode, both lack intelligence, and are dumb and forgetful)
Lotso Huggin' Bear (Toy Story 3 (2010), both lack intelligence, and are dumb and forgetful and pink),
Zippy (T.U.F.F. Puppy, both are scatterbrains),
Pupcake (Strawberry Shortcake, both are idiots)
Mater (Cars, both lack intelligence, and are dumb and idiots)
Easily Hypnotized Guard (Austin Powers: International Man of Mystery, both are easily distracted)
Stimpy (Ren and Stimpy, they are both stupid and have big noses)
Goofy (Disney, both are scatterbrained)
Cosmo (The Fairly Odd Parents, both are dumb and they are lack intelligence),
Sir Neil (Dark and Light Elemantal Ages from Warlords, both are lack inteligence and silly)
Lady Maidelyne (Dark and Light Elemental Ages from Warlords, both are pink, easily distracted and lack inteligence)
Jen Ellie Lee (Dark and Light Elemental Ages from Warlords, both have blue hats, scatterbrain, idiots and lack inteligence)
Stephen Quire (The Greatest Freakout Ever, both are gay because Mr. Scatterbrain kissed Mr. Grumpy and Stephen shoved a remote up his butt during the freakout)
Quick Draw McGraw (Hanna Barbera, both are silly, dumb, stupid, idiots, lack inteligence and laugh a lot)
Pupito and Cleverbot (iPad, all three are stupid and should watch Sesame Street)
Whitey and Spike (Flushed Away,all three are idiots)
Tamama (Sgt Frog, both are gay and loves Mr. grumpy and Keroro)
Dez (Austin and Ally/Disney Channel, both are dumb and forgetful)
The Mad Hatter (Alice in Wonderland), both have the same voice
King Candy (Wreck it Ralph, both have the same voice)
Animals Mr. Scatterbrain Has
Edit
See Also
Edit
Mr. Men
Mr. Tickle Mr. Greedy Mr. Happy Mr. Nosey Mr. Sneeze Mr. Bump Mr. Snow Mr. Messy Mr. Topsy-Turvy Mr. Silly
Mr. Uppity Mr. Small Mr. Daydream Mr. Forgetful Mr. Jelly Mr. Noisy Mr. Lazy Mr. Funny Mr. Mean Mr. Chatterbox
Mr. Fussy Mr. Bounce Mr. Muddle Mr. Dizzy Mr. Impossible Mr. Strong Mr. Grumpy Mr. Clumsy Mr. Quiet Mr. Rush
Mr. Tall Mr. Worry Mr. Nonsense Mr. Wrong Mr. Skinny Mr. Mischief Mr. Clever Mr. Busy Mr. Slow Mr. Brave
Little Miss
Little Miss Bossy Little Miss Naughty Little Miss Neat Little Miss Sunshine Little Miss Tiny Little Miss Trouble Little Miss Helpful Little Miss Magic Little Miss Shy Little Miss Splendid
Little Miss Late Little Miss Scatterbrain Little Miss Greedy Little Miss Giggles Little Miss Twins Little Miss Chatterbox Little Miss Dotty Little Miss Lucky Little Miss Star Little Miss Fickle
Little Miss Contrary Little Miss Busy Little Miss Quick Little Miss Wise Little Miss Tidy Little Miss Brainy Little Miss Stubborn Little Miss Curious Little Miss Fun Little Miss Somersault
Special Mr. Men
Non-English Mr Men
Misc. Mr Men
Appeared in other Stories
Related Articles