Mr. Skinny

Book No.

35

Release Date

November 22, 1978

Preceded by

Followed by
Mr. Skinny is the thirty-fifth book in the Mr. Men series by Roger Hargreaves.
About Him
Color: Yellow
Shape: Thin extended oval like a frankfurter (sausage)
Gender: Male
Hair: None
Relatives: unknown
Love: Little Miss Lucky
Friends: Mr. Tickle, Mr. Greedy, Mr. Cheerful, Little Miss Shy, Mr. Happy, Mr. Daydream
Rivals: Mr. Uppity, Mr. Rude, Little Miss Naughty, Little Miss Bad, Mr. Mischief, Little Miss Scatterbrain
Personality: Being skinny and not eating
Features: Red top hat
Voice Actors: Gordon Peters (1995-1997), Len Carlson (1997-1999)
Story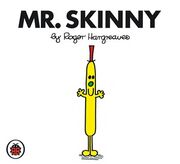 Mr. Skinny lives in Fatland, where everything and everyone is big except for him. He has a small appetite, and sees Dr. Plump, who has him visit Mr. Greedy. Mr. Skinny then gains a belly which makes him happy. The doctor and he celebrate this eating.
International publications & translations
Mr. Skinny appears under the titles Monsieur Maigre (French), 苗條先生 (Taiwan), 빼빼씨 (Korean), Ο Κύριος Κοκαλιάρης (Greek), Unser Herr Dünn (German), Fætter Pind (Danish), やせっぽちくん (Japanese).
List of characters
This is a list of Mr. Men, Little Miss and other special characters that appear in this book.
Title character other appearances
Mr. Marvelous (with a belly)
Mr. Skinny is up the Spout (TV)
Mr. Skinny's Incredible Bet (TV)
Mr. Small's Big Dream (TV)
What a Question, Little Miss Curious! (TV)
Mr. Mean Hasn't a Penny Left (TV)
Little Miss Greedy...Belle of the Ball (TV)
Mr. Cheerful Doffs His Hat (TV)
Mr. Uppity's Big House (TV) (cameo)
Mr. Clumsy, Head Butler (TV) (cameo)
Little Miss Star, the Leading Witness (TV) (cameo)
Little Miss Bossy Has a Busy Day (TV) (Mentioned, but not seen)
Trivia
He might have a crush on Little Miss Lucky.
He is shorter and slightly wider in the 1995 show.
He is best friends with Mr. Greedy.
Counterparts
Gallery
See also
External links
| | | |
| --- | --- | --- |
| V · T · E | Roger Hargreaves | |