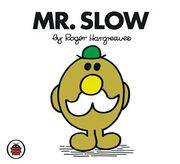 Overview
Mr. Slow is the thirty-ninth book in the Mr. Men series by Roger Hargreaves.
Story
Mr. Slow takes so long to do everything. It took him until New Year to open his Christmas presents, and until Easter to write his thank-yous. He tries to get a job. When he tried to be a news reporter,it took him until midnight to read the news. When he tried to be a taxi driver, he delayed Mr. Uppity in getting to the train station. The job he gets is as a steamroller driver.
Counterparts
International publications & translations
Mr. Slow appears under the titles Monsieur Lent (French), Don Tranquilo (Spanish), 느려씨 (Korean), 慢吞吞先生 (Taiwan), Ο Κύριος Αργοκίνητος (Greek), Unser Herr Langsam (German), ゆっくりくん (Japanese).
Voice Actors
John Alderton (1983)
Gordon Peters (1995-1997)
Len Carlson (1997-1999)
Trivia
He is one of the few characters to have a mustache.
He might be the oldest Mr. Men because he has a mustache
List of characters
This is a list of Mr. Men, Little Miss and other special characters that appear in this book.
Title character other appearances
This is a list of other books that the title character has appeared in.
Mr. Busy (Mr. Slow appears in this book before his own)
A Very Happy Day For Mr. Happy(TV)(cameo)
Mr. Slow Takes the Lead(TV)
Mr. Silly's Silly Secret(TV)
Thank Goodness For Mr. Slow(TV)(does not speak)
Mr. Impressible Lesson(TV)(cameo)
Little Miss Trouble and the Magic Paint (TV)(not named)
Mr. Mean Hasn't a Penny Left (TV)
The Mr. Men Show(cameo)
Another victory for Little Miss Splendid (cameo)
Mr clumsy in the brains and the brawn (cameo with no hat)
Gallery
See also
External links
| | | |
| --- | --- | --- |
| V · T · E | Roger Hargreaves | |
Ad blocker interference detected!
Wikia is a free-to-use site that makes money from advertising. We have a modified experience for viewers using ad blockers

Wikia is not accessible if you've made further modifications. Remove the custom ad blocker rule(s) and the page will load as expected.