Mr. Spendy
is a very obscure Mr. Men book, unlike like the other Mr. Men and Little Miss books, this book was made and published by somebody other than Roger Hargreaves. It was published by Kathleen Smith.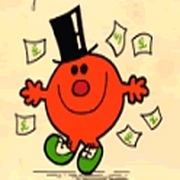 Story
Mr Spendy was a jolly fellow who liked to spend his money, never saving for a rainy day. But his good green friend Mr. Thrifty and his family soon showed him the error of his wasteful ways and Mr Spendy could go on holiday.
Counterparts
See Counterparts Wiki.
Trivia
This book is the rarest out of all the books possibly because of copyright.
Mr. Spendy has five fingers while the canon Mr. Men and Little Misses have four
This is the Only Book To Have £90 or £100. it's Meant to be £0.01
This is the only Mr. Men book not to be from Roger Hargreaves, aside from the post-1990's books.
| | | |
| --- | --- | --- |
| V · T · E | Roger Hargreaves | |