Mr. Spendy
is a very obscure Mr. Men book, unlike like the other Mr. Men and Little Miss books, this book was made and published by somebody other than Roger Hargreaves. It was published by Kathleen Smith.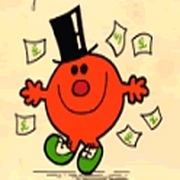 Story
Mr Spendy was a jolly fellow who liked to spend his money, never saving for a rainy day. But his good green friend Mr. Thrifty and his family soon showed him the error of his wasteful ways and Mr Spendy could go on holiday.
Counterparts
Montana Max (Tiny Toon Adventures, both are rich),
Strong Bad (Homestar Runner, both are red and rich),
Mr Krabs (Spongebob, both are red and rich),
Zurg (Toy Story, both learn an important lesson),
Sasuske (Naruto, both are spanked),
Momoka (Sgt Frog, both are rich),
Otto and Skunk (Todd Parr's Peace Book, all three are rich),
Say/Shay (Daneboe, both are red),
James (Thomas and Friends, both red and vain),
Rhodna (Hey Arnold, both are red, rich and learns a lesson),
P.T. Flea (A Bug's Life, both are rich),
Mr. Burns (The Simpsons, both are rich),
Scrooge McDuck (DuckTales, both are rich),
Daffy Duck (Looney Tunes, both learn an important lesson),
Ross family (JESSIE, all are rich).
Moneybags (Spyro the Dragon), both are stinking rich
Mr. Monopoly (Monopoly, both are rich)
Edward "Eddie" Phillip James Lawrence 3th (Class of 3000, both are rich)
Trivia
This book is the rarest out of all the books possibly because of copyright.
Mr. Spendy has five fingers while the canon Mr. Men and Little Misses have four
This is the Only Book To Have £90 or £100. it's Meant to be £0.01
This is the only Mr. Men book not to be from Roger Hargreaves, aside from the post-1990s books.
| | | |
| --- | --- | --- |
| V · T · E | Roger Hargreaves | |
Ad blocker interference detected!
Wikia is a free-to-use site that makes money from advertising. We have a modified experience for viewers using ad blockers

Wikia is not accessible if you've made further modifications. Remove the custom ad blocker rule(s) and the page will load as expected.