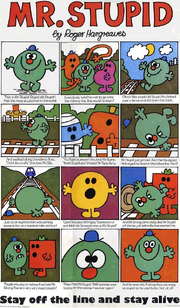 Story
Mr. Stupid is the most stupid person in the whole world. One day he fell on the railway line and Mr. Strong saved him. Mr. Strong told him not to be Stupid and play on the railway line. He is first seen in 1977.
List of characters
This is a list of Mr. Men, Little Miss and other special characters that appear in this book.
Counterparts
Trivia
Features: a hat and buck teeth
Friends: possibly Mr. Strong
Rivals: possibly Mr. Tickle and Mr. Greedy
Is the only Mr. Men character to come close to death.
It is unknown if he will appear in a future story in the series.
He does not care if Mr. Bump gets hurt.
See also
External links
| | | |
| --- | --- | --- |
| V · T · E | Roger Hargreaves | |
Ad blocker interference detected!
Wikia is a free-to-use site that makes money from advertising. We have a modified experience for viewers using ad blockers

Wikia is not accessible if you've made further modifications. Remove the custom ad blocker rule(s) and the page will load as expected.