The Mr. Men Show
Talk

3
556pages on
this wiki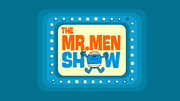 The Mr. Men Show is the show premiered on Cartoon Network in the US, Milkshake Five in the UK, France 5 in France, ABC 4 Kids and ABC 3 in Australia, and YTV in Canada.
List of Characters
Mr. Men
Mr. Tickle - Same as the books, but his hat is floating.
Mr. Happy - Same as the books.
Mr. Nos(e)y - He is shaped more like Mister Greedy, he is lime green, has an orange oval nose and he wears a black necktie.
Mr. Bump - Same as the books except one of his bandages has been removed.
Mr. Messy - Same as the books except he now wears the same shoes as Miss Chatterbox.
Mr. Small - He is now orange, he wears a tall top hat replacing his blue bowler hat and he now wears white sneakers.
Mr. Nervous - He is egg-shaped, purple, wears glasses, has a green nose and wears black and white sneakers.
Mr. Noisy - He is the same, except he has a megaphone and walks like an elephant.
Mr. Lazy - He is green, thin, is more human shaped and he has a large red-pink cap.
Mr. Funny - His top hat is now bent and no longer has a daisy. He also has a bowtie and has his gloves removed.
Mr. Fussy - His moustache is Luigi-styled, he gains glasses, and a black bowtie. In Season 1, he was called Mr. Persnickety or Mr. Pernickety in the UK and Australia.
Mr. Bounce - He is the same except bigger and normal sized.
Mr. Strong - He is a triangle, has no hat, but has a belt and his biceps are larger to emphasis his personality. His book counterpart is a square.
Mr. Grumpy - He now has a unibrow and a hat like Mr. Strong's book counterpart.
Mr. Quiet - He is now light blue and has 2 hairs on his head rather than five and normal sized.
Mr. Tall - He now has a straw hat.
Mr. Rude - He trades his black hat for a pair of brown shoes.
Mr. Scatterbrain - A male counterpart of Little Miss Scatterbrain. He is a magenta, pear-shaped Mr. Men with a unibrow, a pink nose, and a hat just like Mr. Tickle's.
Mr. Stubborn - A male counterpart of Little Miss Stubborn. He is a purple oval-shaped Mr. Man, with a unibrow, two hairs, and a yellow triangle nose.
Mr. Muddle- A character who doesn't appear in the series except the intro. He is a lighter green colour.
Mr. Greedy- appears only in Boats with no lines, along with Mr. Grumble and Mr. Mean.
Little Misses
All the Little Misses' names are referred on-screen without the prefix 'Little'.
Differences between the show and the books
Main article: The Mr. Men Show-Book Comparison
Episodes
Season 1
Season 2
Voice Cast
US Broadcast
UK Broadcast
Alex Kelly - Little Miss Bossy, Little Miss Scary
Aline Mowat - Little Miss Calamity
Claire Morgan - Little Miss Curious, Little Miss Giggles
Emma Tate - Little Miss Magic, Little Miss Sunshine, Little Miss Helpful
Godfrey - Mr. Metal
Jeff Stewart - Aliens
Jo Wyatt - Little Miss Sunshine (Season 1),Little Miss Helpful (Season 1)
Joseph J. Terry - Mr. Rude, Mr. Scatterbrain
Keith Wickham - Mr. Small, Mr. Tall
Lewis MacLeod - Mr. Stubborn
Rob Rackstraw - Mr. Pernickety/Fussy, Mr. Messy, Mr. Noisy, Mr. Tickle, Mr. Happy
Simon Callow - Narrator
Simon Greenall - Mr. Bounce, Mr. Bump, Mr. Grumpy, Mr. Happy (Season 1), Mr. Quiet, Mr. Strong
Steven Kynman - Mr. Nosey
Teresa Gallagher - Little Miss Chatterbox, Little Miss Daredevil, Little Miss Naughty, Little Miss Whoops
Tim Whitnall - Mr. Lazy, Mr. Nervous
Japanese Broadcast
Noriaki Sugiyama - Mr. Happy, Mr. Tall
Haruo Sato - Mr. Grumpy, Mr. Nosy, Mr. Nervous
Yuuki Ono - Mr. Bump, Mr. Tickle
Reiko Takagi - Miss Sunshine, Miss Chatterbox, Miss Bossy
Tomoe Omi - Miss Calamity, Miss Naughty, Miss Giggles
Tomomi Nishimura - Miss Magic
Tomoko Kobashi - Miss Helpful, Miss Whoops
Kimiyoshi Kibe - Mr. Stubborn, Mr. Quiet
Emi Nakajima - Miss Daredevil, Miss Scary
Mitsuru Takakuwa - Mr. Persnickety/Fussy
Takuya Eguchi - Mr. Small, Mr. Noisy
Hideaki Nonaka - Mr. Rude, Mr. Bounce
Notes
This is the first TV appearances of Mr. Rude, Little Miss Scary, and Little Miss Whoops.
Season 2 takes place one year after season one.
A lot of the characters have had updates.
The first appearances of Little Miss Daredevil, Mr. Stubborn, Mr. Scatterbrain and Little Miss Calamity.
None of the character's catchphrases (except for Mr. Noisy's and Miss Whoops') are lines from their original books.
The entire show uses the Ed Interlock Font
Gallery
Mr. Men
Mr. Tickle Mr. Greedy Mr. Happy Mr. Nosey Mr. Sneeze Mr. Bump Mr. Snow Mr. Messy Mr. Topsy-Turvy Mr. Silly
Mr. Uppity Mr. Small Mr. Daydream Mr. Forgetful Mr. Jelly Mr. Noisy Mr. Lazy Mr. Funny Mr. Mean Mr. Chatterbox
Mr. Fussy Mr. Bounce Mr. Muddle Mr. Dizzy Mr. Impossible Mr. Strong Mr. Grumpy Mr. Clumsy Mr. Quiet Mr. Rush
Mr. Tall Mr. Worry Mr. Nonsense Mr. Wrong Mr. Skinny Mr. Mischief Mr. Clever Mr. Busy Mr. Slow Mr. Brave
Little Miss
Little Miss Bossy Little Miss Naughty Little Miss Neat Little Miss Sunshine Little Miss Tiny Little Miss Trouble Little Miss Helpful Little Miss Magic Little Miss Shy Little Miss Splendid
Little Miss Late Little Miss Scatterbrain Little Miss Greedy Little Miss Giggles Little Miss Twins Little Miss Chatterbox Little Miss Dotty Little Miss Lucky Little Miss Star Little Miss Fickle
Little Miss Contrary Little Miss Busy Little Miss Quick Little Miss Wise Little Miss Tidy Little Miss Brainy Little Miss Stubborn Little Miss Curious Little Miss Fun Little Miss Somersault
Special Mr. Men
Non-English Mr Men
Misc. Mr Men
Appeared in other Stories
Related Articles
Roger Hargreaves Adam Hargreaves Mr. Men and Little Miss The Mr. Men Show